Welcome to Year 4
Class Teacher: Miss Fonseca & Mrs Rutledge 
Teaching Assistant: Mrs Watkins 
Our class saint is St. Josephine Bakhita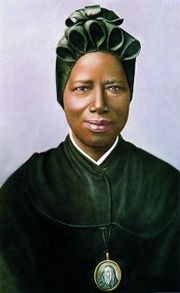 Year 4 Curriculum
Year 4 Overview Lancashire Curriculum
Y4 Long Term Plan Consolidation Planned
Our RE curriculum consists of nine topics with the following themes:
Autumn:
People: Looking at the family of God.
Called: Learning about Sacrament of Confirmation.
Gift: God's gift of love and friendship in Jesus.
Spring:
Community: Life in the local Christian community and ministries in the parish.
Giving and Receiving: Living in communion.
Self-discipline: Celebrating growth to new life.
Summer:
New life: To hear and live the Easter message.
Building Bridges: Admitting wrong, being reconciled with God and each other.
God's people: Different saints show people what God is like.
Year 4 Expectations
Free ebooks and online reading material
FYI – Please take a look in order to help you to progress with your reading comprehension skills:
Daily Reading:  here are some recommended websites with free online books:
Oxford Owl
Storyline Online
International Children's Digital Library
Open Library
Amazon's Free Kids Ebooks
Barnes & Noble Free Nook Books for Kids
Mrs. P's Magic Library
Homework:
This will be set on class dojo every Wednesday.