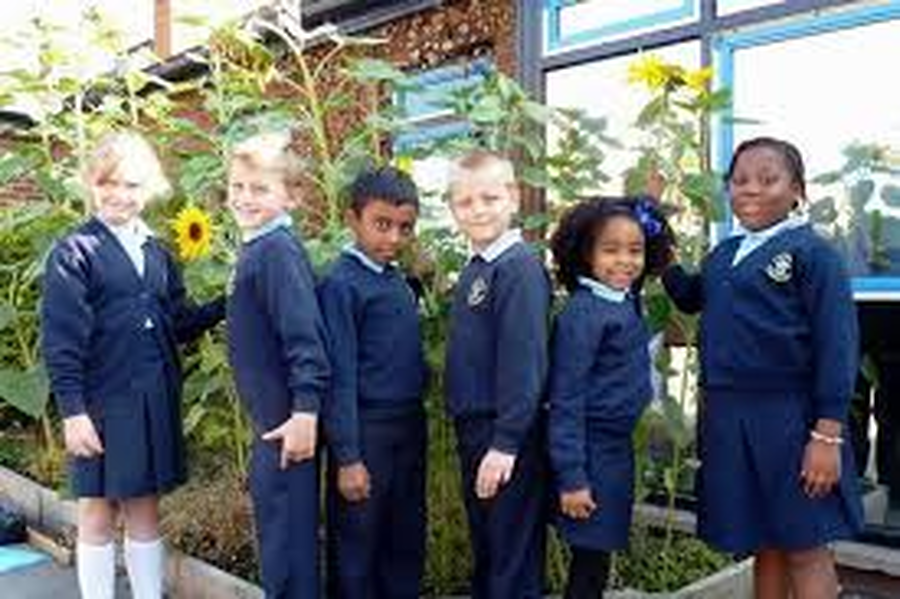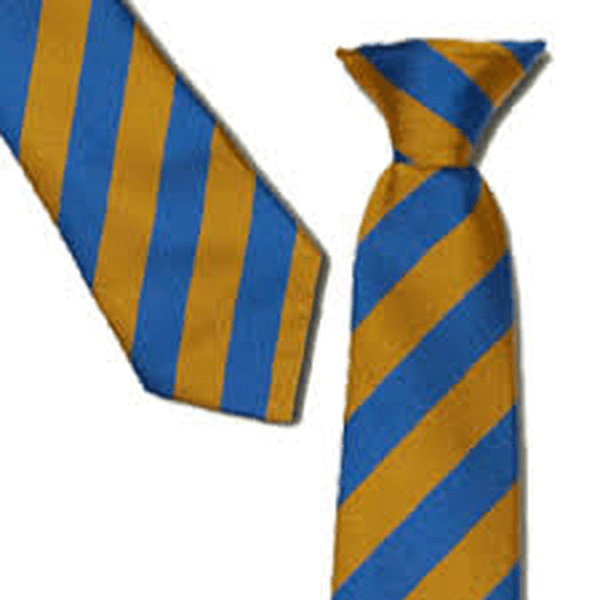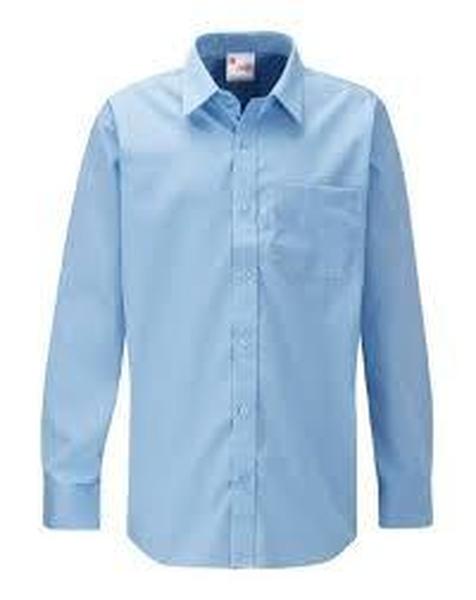 Short sleeved Blue Shirt Winter Uniform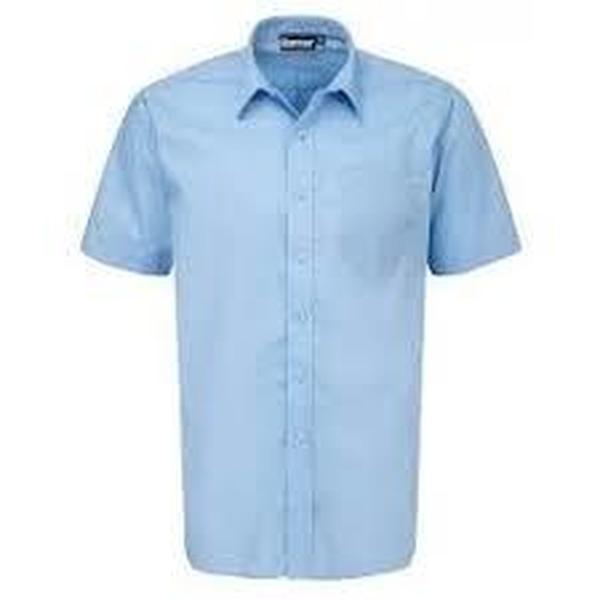 Summer Uniform
For the Summer Term to the October half term.
Navy/ Charcoal Grey tunic, skirt or trousers.
Pale blue polo shirt
Navy jumper/ cardigan ( school logo)
Outdoors: Navy Fleece
Navy trousers/ shorts  Charcoal grey trousers/shorts
Pale blue polo shirt
Navy sweatshirt ( school logo)
Outdoors: Navy Fleece
Coats should be plain, preferably Navy
Shoes should be worn for school, not trainers: black
All children should wear flat shoes.
P.E.
Girls & Boys –  White T-shirt/ blue PE T- shirt
Blue navy Shorts
Black plimsolls
Outdoor Trainers (Juniors only)
Navy blue/ black jogging trousers (Optional)
Winter Uniform
The winter uniform which will need to be worn from after the October half term to the Easter half term: are blue shirts ( instead  of the polo shirts) and a blue and yellow striped tie. The navy blue cardigans or v-necked school jumpers with the school logo   are worn and the usual navy blue trousers and skirts. Charcoal grey trousers/skirts can also be worn.  Navy blue round necked jumpers with the school logo can be worn with the school tie and shirt.
All children except the Reception class require a Swimming kit and the boys should have trunks, not shorts. Caps are required for these lessons.
All clothing, bags, P.E. kit etc. should be clearly marked with the child's name.  We also ask that any bags are kept as small as possible.
We do not have room to store large bags during the day.  Blue hats should be worn during hot summer days.
Rosebuddies School Uniform: will also be selling St Mary's School Uniform. The stall can be found in Loughborough on Saturdays. Uniform can still also be purchased from the school office.
Order Online    Rosebuddiesonline.co.uk (example order form is in the school office.)
Enquiries:           Please Contact Hannah On 07821077606
Email:                   rosebuddies@rosebuddiesonline.co.uk
Rosebuddies supply a range of school uniforms please look on the website.  www.rosebuddiesonline.co.uk Should you change your mind about your purchase they will gladly offer you an exchange or credit note. The item needs to be returned within 14 days of purchase and have all labels intact. Exchange will be offered within 14 days of purchase for manufacturing faults.
Jewellery is a hazard which cannot be allowed in school, except ear studs, watches and any jewellery because of a religion. If there is a specific religious request to wear a piece of jewellery, this must be submitted in writing to the Head teacher, to see if it follows the Academy policy.
Earrings are a hazard in any physical activity and must be removed.
Hairstyles should be sensible. If hair is longer than shoulder length, it should be tied up or plaited. Sensibly sized school colour bows or clips can be worn but will need to be removed in PE lessons. Tram lines, colours or shavings into the hair with a pattern or shape, is not allowed. No nail polish or make up is allowed.
Children are responsible for their personal property and for taking items home at the end of the day. We always do our best to ensure that clothing and other items are kept safe but we cannot accept responsibility for loss or damage.
All belongings should be marked with the child's name.