Welcome to St. Lorenzo's Class
Teacher: Miss Buttarazzi and Mrs Rutledge
Teaching Assistant(s): Mrs Adamek and Mrs Heald
The Lent Term- What will we learn?
The Farm Shop
In English we are focusing on innovating a Narrative based on a Farm Setting. Afterwards, our learning will focus on Persuasion and Poetry, exploring Riddles.
In Maths w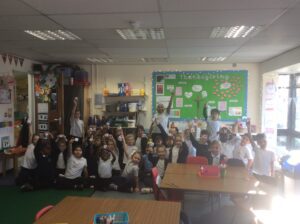 e will continue to explore Properties of Shape, followed by Fractions.
In RE we will continue to explore our current topic of Thanksgiving and being Grateful. Afterwards, we will focus on the topic 'Opportunities' to explore Lent and preparations for Easter.
Our Science topic focuses on Plant Growth. The children will use our school Disciplinary Skills of a Good Scientist to observe and describe how seeds and bulbs grow into mature plants. We will use gardening to develop these skills, making links to our Design and Technology topic for this term.
In Design and Technology, we will use the Disciplinary Skills of a good Designer to grow and select ingredients from our Year 2 Garden to create and design a Salad. We will integrate Food for Life sessions to taste test lots of healthy ingredients and promote healthy eating.
Our Geography lessons will focus on learning about a small area within a contrasting non-European country; Malawi. We will be focusing on using our Disciplinary Skills of a good Geographer to compare the Human and Physical features of Malawi to Loughborough; making links to our learning from the Autumn Term.
In Relationship and Sex Education (RSE) we will be learning about Being Safe.
In PE, the children will be doing Creative Games.
You will see below our timetable for this next half term along with the knowledge organiser for our new topic: The Farm Shop.
Look out for up-to-date messages and homework on Class Dojo.
Many thanks,
Miss Buttarazzi, Mrs Adamek and Mrs Heald.
Extra Resources:
If you find your child needs extra practise in Maths or English – please use some of the workbooks and resources below to recap and revisit prior learning