Dear Parents, here is the link to connect with your child on the Year 5 Class Dojo page:
Please read the letters below! We look forward to seeing you back on Monday the 26th of October: please note the change of times for dropping and collecting: 8.50a.m start 3.10p.m finish.
Here's the spelling website we use for the year 5 spellings https://wordstudyspelling.com/
You'll find all the spellings from class under the year 5 section of the resources page, including the words to cut up and sort into groups.
So far, we have been practising: ie / ei, -ance -ence endings, -cial -tial endings, tricky year 5 homophones and tricky year 5 words
Dear Year 5
I loved reading your letters about having a school pet. They were organised very well into clear paragraphs, showed excellent joined handwriting, used persuasive language and the correct letter structure. I completely agree that you are a very responsible class and would take very good care of a pet- but I'm not sure how much experience you have of looking after a pink flamingo!
I have been in contact with Lauren and Ted the dog, to see if they would visit again, but if she can't we are arranging for another reader, with a dog. Although I would love a pink flamingo to be our school mascot, I have to follow health and safety laws. We wouldn't be allowed to have any animals that would need a zoo keeper to look after it. A tortoise, fish, hamster or rabbit may be possible. Have you thought about the school having chickens?
Please could you find out for me, what pets schools can legally have in school and what would need to be all the rules and regulations we would have to follow. If we had this information, we could then write a persuasive letter to the Director of performance standards for our Academy to see whether he would allow us to have a school pet? How do you think it would improve your learning and well-being?
Thank you for working so well at home. Have an amazing and restful half term : keep safe and well. I look forward to reading your replies.
Miss Jordan
Dear Year 5,
Well done for your letters to Miss Jordan. I know how much she enjoyed reading them and what a great reply! I hope you are researching a really good response - maybe you will be allowed a pet after all. It does take a lot of organising but with the correct preparations, these things can happen.
Today, please could you complete your R.E. work for this week - it's Learning Focus 4, about the sacrament of marriage. Have a go at the mathematics tasks on the Powerpoint as the answers follow each slide so you can self-check as you go along and then this afternoon, see the fun tasks below: an internet safety quiz and an Art project.
Have a great half term, year 5 and look forward to seeing you all back after the holiday.
Best wishes,
Mrs Abell
Internet Safety: read and work through the powerpoint on how to stay safe on the internet then test yourself with the quiz.
Friday Fun Art! Grab some paper (old envelopes, an empty cardboard box, scrap paper), some pencils, find a cosy corner and DRAW!
If you didn't have time yesterday, take some time today or over the half term to explore the Tate Kids website. The Tate Gallery is a family of four galleries: Tate Britain and Tate Modern (both in London), then two other galleries , one in St Ives, in Cornwall and the fourth in Liverpool. The galleries contain some of the most famous pieces of modern art in the world. I remember visiting once and one of the installations was a video of a man dressed in a gorilla suit covered in toilet roll, jumping up and down, around and around a room, until he jumped out of his gorilla suit. Dan was about 8 at the time and he thought it was the best piece of art he had ever seen! Do you think that is art?
Look at these images below and then draw your own piece of art. Both paintings are by the black British artist called Lubaina Himid. She was born in 1954 and is a Professor of Contemporary Art at the University of Central Lancashire (that's where I went to university). Have fun and take good care. On the Tate website, high profile works by black artists are given special importance as it is Black History Month. Take a look at the black artists section: we are very lucky to have such influential artists working so close to home.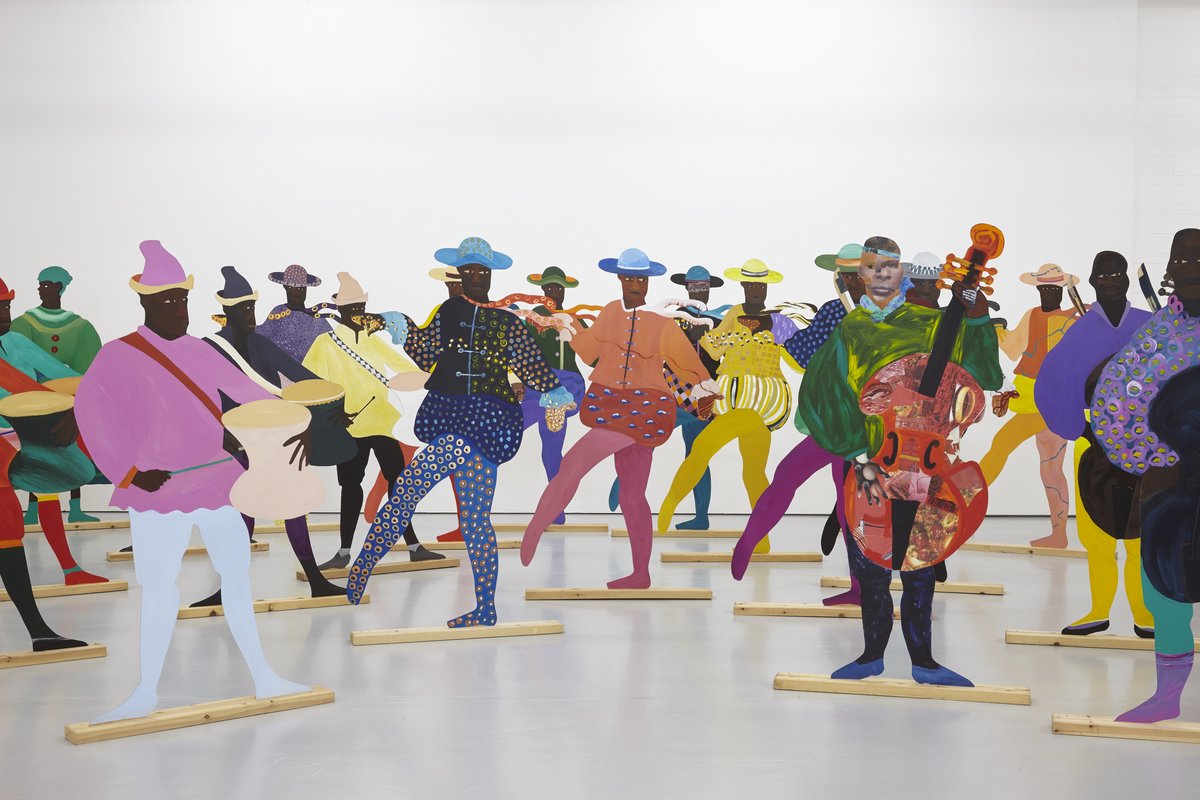 Thursday 15th October
Good morning everyone and hope you had a good day yesterday.
This morning, edit and write your final draft of your extended writing in English on visiting Beacon Hill. You may illustrate your answer once it is completed. Once yesterday's work is complete, please see the R.E. and Art tasks below.
Hope you have a good day today everyone,
Best wishes,
Mrs Abell
Thursday Art - who is Yinka Shonibare?
Take a look at this artist. Can you draw and colour your own family history? You could include words, photographs and stories as well as your own Art work.
https://www.tate.org.uk/kids/explore/who-is/who-yinka-shonibare
Take time to explore the Tate Kids website: there are lots of quizes and fun ideas to create your own Art project.
Wednesday 14th October 2020
Dear Parents,
It has been very good to talk with you today. Thank you for all your support and kind comments.
Please find below the link to our Class Dojo page:
https://www.classdojo.com/invite/?c=CRLK2LY
I'll post some more work this evening for tomorrow and Friday.
Best wishes,
Mrs Abell
Dear Year 5 Parents- please see the letter above. The work for the next three days will be on this class page.
Wednesday 14th October
Dear Children,
We are very sorry to hear one of you isn't well and hope we can all be back together soon. You're a lovely lot and we've had such a great time so far this year. Also, I'm really looking forward to talking to your parents to let them know how hard you are working and some of the amazing work you have produced. Shall I take photographs today and put them up here? I'll give Miss Jordan your letters today. I don't see how she could possibly refuse you a pink flamingo after reading your fabulous letters requesting a school pet. (By the way, Miss Jordan, if you are reading this, the other suggestions were: a parrot, guinea pig, bunny rabbit, German Shepherd, or any dog, hamster, tortoise) :)
Talk to your families about the photographs which include our end of topic Liturgy in R.E., our day with The Briars Team, our Science work and the best day out at Beacon Hill. Enjoy the photographs.
Please find below a rather long list of tasks. The first two tasks are the straightforward addition and subtraction booklet you began in class on Monday. The answers are below. Write out the questions, show your working out and answer on paper please. For those of you who would rather a challenge, there are reasoning and mastery tasks in the main bulk of the files underneath the booklet.
For English, please look at the success criteria and model sentences alongside the booklet of Beacon Hill. Please plan and write an extended piece of writing on why everyone and anyone should visit Beacon Hill. To plan, make four lists: one of expanded noun phrases, one of amazing verbs, one of adverbial phrases and one of subordinating conjunctions. Remember to use modal verbs too.
It was to be our last Science lesson on Materials this afternoon. You were going to research on the laptops properties of thermal insulation and why the flask was the best insulator. Can you do this please and draw a diagram of a flask and write it's component parts, explaining why it is made like this to keep the drink inside hot.
Find some fun youtube videos on modal verbs, subordinating clauses and last but not least: say a decade of the rosary. I will say one too, remembering you all and praying for everyone to get well soon.
Take care, year 5 and remember always how precious you are.
Mrs Abell
| Name | |
| --- | --- |
| 100dpi-Beacon-Hill-Country-Park-Leaflet-11.pdf | Download |
| Answers - Multi-Step Addition and Subtraction Problems.pdf | Download |
| Horizontal Format - Multi-Step Addition and Subtraction Problems.pdf | Download |
| PowerPoint - Multi-Step Addition and Subtraction Problems.ppt | Download |
| PowerPoint - Multi-Step Addition and Subtraction Problems.pptx | Download |
| Success criteria - Tuesday 13th October 2020.pdf | Download |
| T2-M-1726-Year-5-Addition-and-Subtraction-Multistep-Problems-Maths-Mastery-Challenge-Cards_ver_2.pdf | Download |
| Vertical Format - Multi-Step Addition and Subtraction Problems.pdf | Download |
Showing 1-8 of 8
It is recommended by Public Health Leicestershire and by both Leicester City and Leicestershire County Councils that parents should wear face coverings when dropping off and picking up their children from school. This will contribute to the minimising of transmission of COVID-19. We thank you for your support and understanding in this regard.
Please find below homework for this weekend, 9th October
Please could children bring in a photograph of themselves and a wedding photograph for our new R.E. topic on living out our Mission (it's the first sacramental topic and includes marriage).
Week beginning 26th October 2020
Good morning,
Please see below the English and Mathematics powerpoint we will be using in class this week which contains activities for each day.
We are beginning new topics in Art and Design, Geography, Design Technology and Science this week.
Art
Look up the Tate Kids website and find an artist who inspires you. We are going to focus on black British artists as it it is Black History month. the two I love are, Lynette Yiadom-Boakye and Frank Bowling - you can find examples of their work on the Tate kids website.
Have a go at sketching people or objects mimicking their style. Frank Bowling was inspired by a visit to the National Gallery when he was 19 and saw for the first time the works of Turner and Constable. Can you find examples of these artists work too?
Geography
In Geography we are finding out about where our food comes from: look at the packaging on your food labels to see where it comes from around the world. I'll post our class activities later today.
We'll be thinking of you and your families in school, will light our candle and say a prayer for you.
Take care and see you soon,
Mrs Abell
| Name | |
| --- | --- |
| GPS-Year-5-Autumn-Block-3-AR-Recognising-Modal-Verbs.pdf | Download |
| GPS-Year-5-Autumn-Block-3-PPT-Recognising-Modal-Verbs.pptx | Download |
| GPS-Year-5-Autumn-Block-3-Step-2-AR-Using-Modal-Verbs.pdf | Download |
| GPS-Year-5-Autumn-Block-3-Step-2-PPT-Using-Modal-Verbs.pptx | Download |
| GPS-Year-5-Autumn-Block-3-Step-2-VF-Using-Modal-Verbs.pdf | Download |
| GPS-Year-5-Autumn-Block-3-VF-Recognising-Modal-Verbs.pdf | Download |
Showing 1-6 of 6